THIS NEW TURNTABLE LETS YOU DIGITISE VINYL STRAIGHT TO USB STICK
The LS-55 from Lenco comes in at £129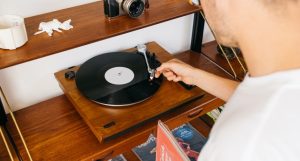 A new turntable from Lenco – the LS-55 – lets users rip vinyl straight to a USB stick. The new turntable also features built-in speakers and Bluetooth connectivity as well as the USB port, which encodes to MP3 format.
The player features a built-in phono pre with RCA outputs, for connecting straight to a mixer or amp. There's also an aux input for using the built-in 5W speaker. The LS-55 has a retro wooden finish, despite its modern features and also includes a passive radiator for "better BASS effect".
The new turntable is available for £129, which is a pretty good price for the features included – find out more about the LS-55 on Lenco's website here.