ADULT FILM STAR CAUGHT ON CAMERA PERFORMING SEX ACT IN CROWD AT BASSNECTAR'S DEJA VOOM FESTIVAL
Very NSFW material from Bassnectar's Deja Voom.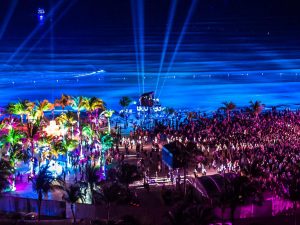 Bassnectar's destination festival Deja Voom just kicked off its debut year in Riviera Maya, Mexico, this weekend. The "first ever tropical family vacation", is headlined by Bassnectar himself, and features performances by REZZ, The Glitch Mob, Mala & Coki (Digital Mystikz) and many more.
Adult film star Adriana Chechik attended the festival, and tweeted the following earlier this week:
Many thought Chechik wasn't being serious, yet the following video surfaced, showing a girl that could be the adult film star giving a blowjob in the middle of the crowd. While one couldn't assert this is Chechik with certainty, she responded to a tweet and may have confirmed that she is the woman in the video.